Configure and Enable the OneDrive for Business Connector
Role Required
To Edit Connector Details you need to be assigned to the Application Administrator role in Records365.
Records Managers have read-only access to the Connector Details page.
Click on the Settings icon in the top right hand corner of Records365.
Click on the OneDrive for Business tile in the connector gallery.
In the configuration page, select the accounts to be managed under Add Managed Accounts.

All – This is the "opt-out" configuration.
All the accounts will be managed except for the ones specified under the Unmanaged Accounts list. To add an account under this list, click on Add Unmanaged Account and enter the email address. To delete an account from this list, click on next to it.
Selected – This is the "opt-in" configuration.
Only the accounts that are under the Managed Accounts list will be managed. To add an account under this list, click on Add Managed Account and enter the account's email. To delete an account from this list, click on next to it.
When an employee's Active Directory account is deleted, we recommend the corresponding OneDrive user details also be removed from the OneDrive connector configuration.
Select the Versioning Level:

Major Only – To manage major versions only. Major versions are identified by whole numbers, such as 5.0, or
Minor and Major – To manage both minor and major versions. Minor versions are identified by decimal numbers, such as 5.1.

Under Advanced Options you can set the Originating Organization, this will allow content being submitted by this connector instance to be tagged with the name of the organization being managed.
Once all the settings have been updated click on Save.
A success message will appear once the connector is added successfully.
Connectors are Disabled by default. This means no content will be submitted from the connector until the connector is Enabled. Before enabling a Connector, ensure that all rules have been set up first otherwise your records will be uncategorized. To complete the rules setup refer to Rules .
Once you are ready to begin managing records from this connector in Records365, click Enable.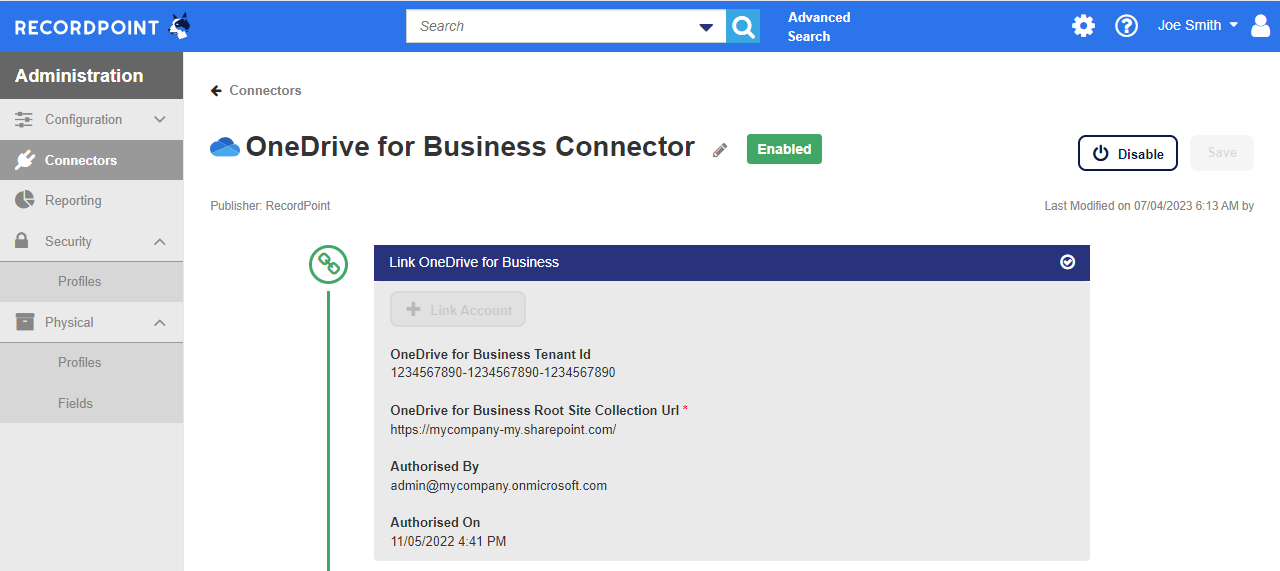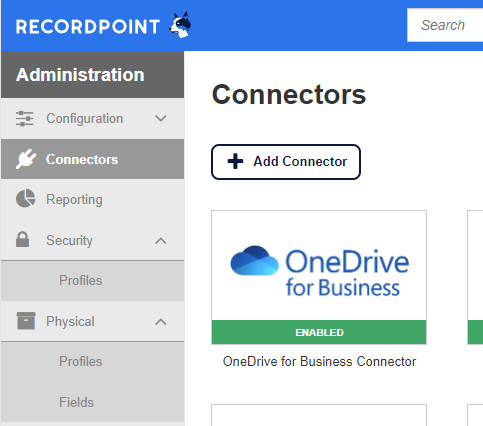 Your OneDrive for Business connector is now enabled and submitting content to Records365 for management!