Role Required
To Create and Edit Physical Records you need to be assigned to the Application Administrator or the Records Manager role. Alternatively, Record Visitors can be given the permission to Create and Edit Physical Records through the use of Security Profiles. For more information on security profiles and permissions, see Security Profiles.
Creating Physical Records
Click on Browse in the left hand navigation pane.
Click on New at the top left of the Browse grid.

Select the appropriate type of asset to be created. The types available for selection depends on which Browse page you are viewing. On the Browse All page you can create any type of Physical Record, whereas on the Browse Records page only new physical records can be created.
The New Physical Record pane will open. Select a Profile from the dropdown menu.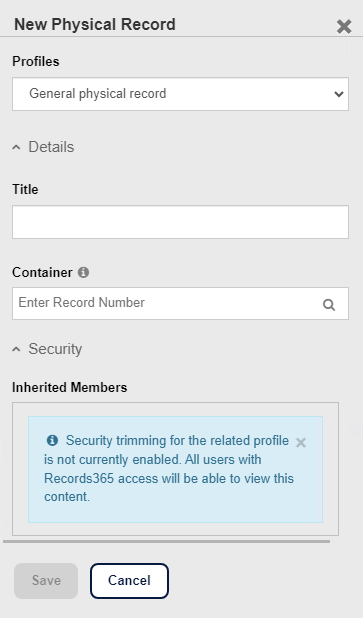 Enter the appropriate metadata required by the Profile and click the Save button.

Create a copy of a Physical Record
Navigate to the Browse page. A copy of a Physical Record can be created from any of the tabs, as well as from the Advanced Search page.
Select an existing Physical Record. The new Record will be created based on the selected item – it will copy all of the properties from the selected item, so ensure the most relevant item is selected. If a Part is selected, the newly created Part will be related to the master folder of the selected part.
Click on the Copy button, a slide out panel will be displayed such that all of the properties will be populated with values from selected existing Physical Record.
Update any relevant metadata and click Save.
Editing Physical Records
To Edit a Physical Record, select it in the Browse grid using the checkbox at the left hand side of the grid.
You can Edit more than one Physical Record at a time by selecting multiple checkboxes in the grid. Note that the Edit button will not be available if you have selected any Electronic Records.
Click the Edit button at the top left of the Browse grid. The Edit Physical Record pane will reopen. When editing multiple physical records, only the common fields across the Profiles of the selected records will be displayed in the Edit pane.
Searching for Physical Records
Physical assets have a Media Type of Physical. See Advanced Search for more details on searching for records by their properties.