As a records manager, CIO, or privacy officer, you likely have many important goals when it comes to information management, for example:
Identifying instances where critical Personally Identifiable Information (PII) surpasses a specific threshold.

Streamlining the organization of uncategorized records within your system.

Staying informed about the number of records you are managing in relation to your RecordPoint subscription level.
To accomplish these objectives our Enterprise Reporting features provide you with the tools to set up alerts to help you keep up to date on key milestones. Alerts can promptly notify you whenever there are changes and data that exceed predetermined thresholds.
By leveraging these tools, you gain the ability to proactively monitor and manage your data, ensuring compliance, security, and efficient categorization of records. Take full advantage of Enterprise Reporting and PowerBI Dashboards to maintain control over your information landscape.
Creating an alert with PowerBI in the PowerBI Service
This example shows how to create an alert from the signals report in Records365.
Ensure that the Signal Intelligence Report is published to your PowerBI Service.
Sign in to RecordPoint.

Go to the

Administration

page by clicking the cog wheel on the top bar.

Select

Reporting

from the left-hand navigation menu.

Select the

Enterprise

tab.

Download the Power BI file named

Signal Intelligence Report.

Open

the report in PowerBI Desktop.

In Power BI Desktop, choose File > Publish > Publish to Power BI or select Publish on the Home ribbon.
Sign in to Power BI if you aren't already signed in.

Select the destination. You can search your list of available workspaces to find the workspace into which you want to publish. The search box lets you filter your workspaces. Select the workspace, and then click the Select button to publish.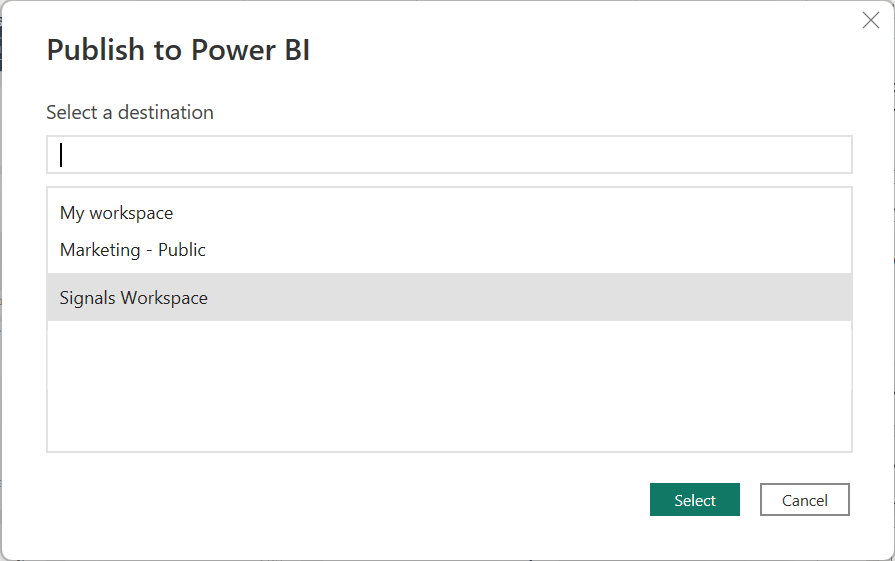 Once the publishing is complete, you receive a link to your report. Select the link to open the report in your Power BI site.
Create the alert in the Power BI service
You can create alerts from Tiles, Gauges, and KPIS. Here we will create an alert if the Critical PI passes above 2145.
Open the Signal Intelligence Report in the PowerBI service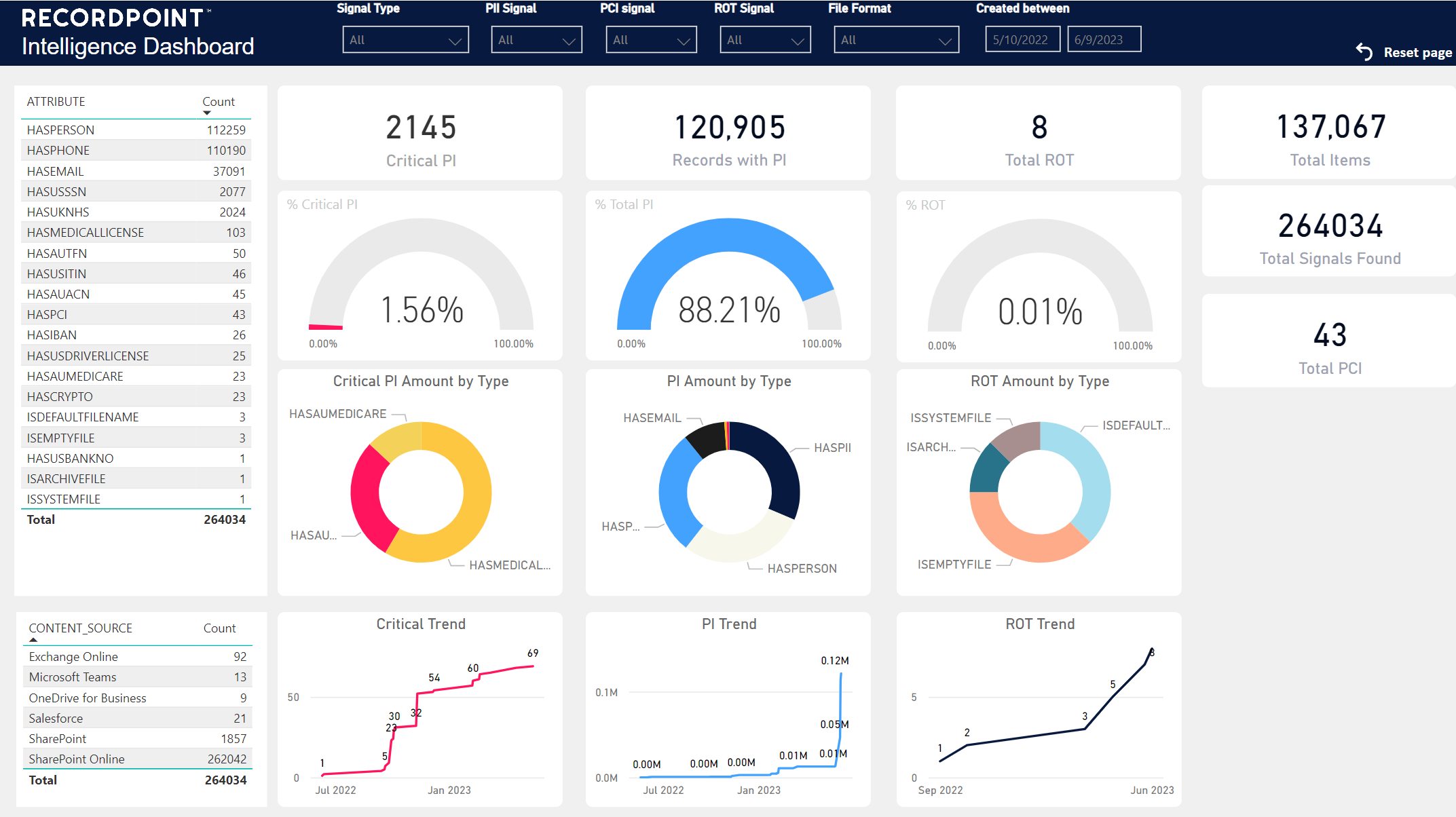 Edit the report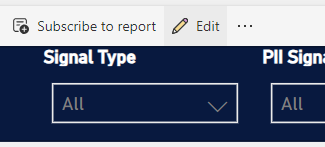 Select the Critical PI tile and select the Pin to pin to a new or existing dashboard.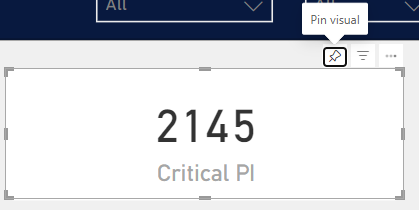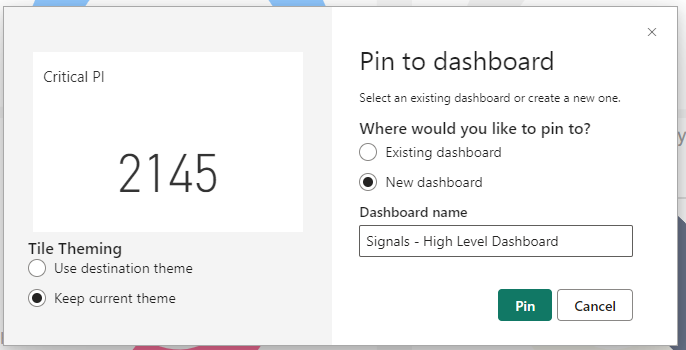 From the new dashboard, go to the Critical PI tile and select the ellipses
Select Manage alerts to add one or more alerts for the Critical PI card.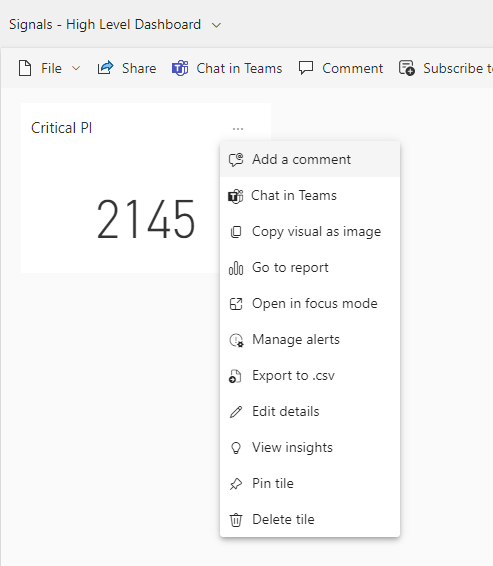 To start, select

+ Add alert rule

, ensure the

Active

slider is set to

On

, and give your alert a title. Titles help you easily recognize your alerts.

Scroll down and enter the alert details. In this example, you create an alert that notifies you once a day if the number of Critical PII goes above 2145.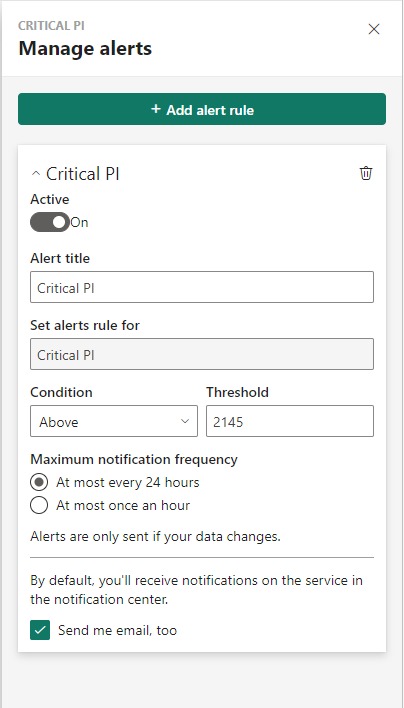 Alerts appear in your Notification center. Power BI also sends you an email about the alert if you select the checkbox.
For more information on how to set up and manage your alerts, you can explore the Microsoft documentation: