Overview
The Intelligence Signal features help you understand high-value vs. low-value data and make better data decisions. The Intelligence Signaling add-on module allows you to:
Know where your sensitive data is including Personally Identifiable Information (PII) and Payment Card Industry - Data Security Standard (PCI-DSS) entities, and protect it accordingly.


Minimize Redundant, Obsolete, or Trivial (ROT) information by safely and confidently destroy this unnecessary data.
The Intelligence Signals feature enriches your records metadata with 'signals' that indicate if a record contains PII, PCI-DSS entities, or ROT characteristics. These signals can then be used in searches, rules, and enterprise reports.
Intelligence Signaling for PII/PCI will analyze all your text-readable documents. It does not currently search non-text readable files such as images, video, and audio files.
Intelligence Signaling for ROT will analyze all your file metadata against a predetermined set of rules. Document content is not currently analyzed for ROT.
For more information on what is supported, please see:
Enabling Intelligence Signaling
The Records365 Intelligence Signaling add-on module is available for early access on request. The Intelligence Signaling add-on module requires an additional subscription. Please get in touch with Support to be part of the early access program.
Once you have Intelligence Signaling turned on, any new record ingested into Records365 will be enriched with the signals detected.
Viewing signals on a record
To view the signals on an individual record:
Sign in to Records365.
Go to the Browse page.
Select any record to open the Records Details page.
Select the Signals tab.

Any signals on the record are displayed.
Please note documents created or modified before Intelligence Signaling was enabled will not have been processed and will therefore have no signals.
Using signals in rules
The Rules engine is at the heart of Records365. Rules are used to evaluate content created or updated within your Content Sources and to identify how to categorize, retain and dispose of the content. You can use signals in rules to add additional criteria to your rules.
To create a rule for a signal:
Sign in to Records365.
Select the Manage -> Rules link.
In the left-hand navigation menu, select Rules. Hover over 'Y' or 'N' and select '+'.

Add a new Criteria, select Criteria from the '+' menu.

In the Criteria, enter Signals Property, Condition Type, and Condition.
Select Apply.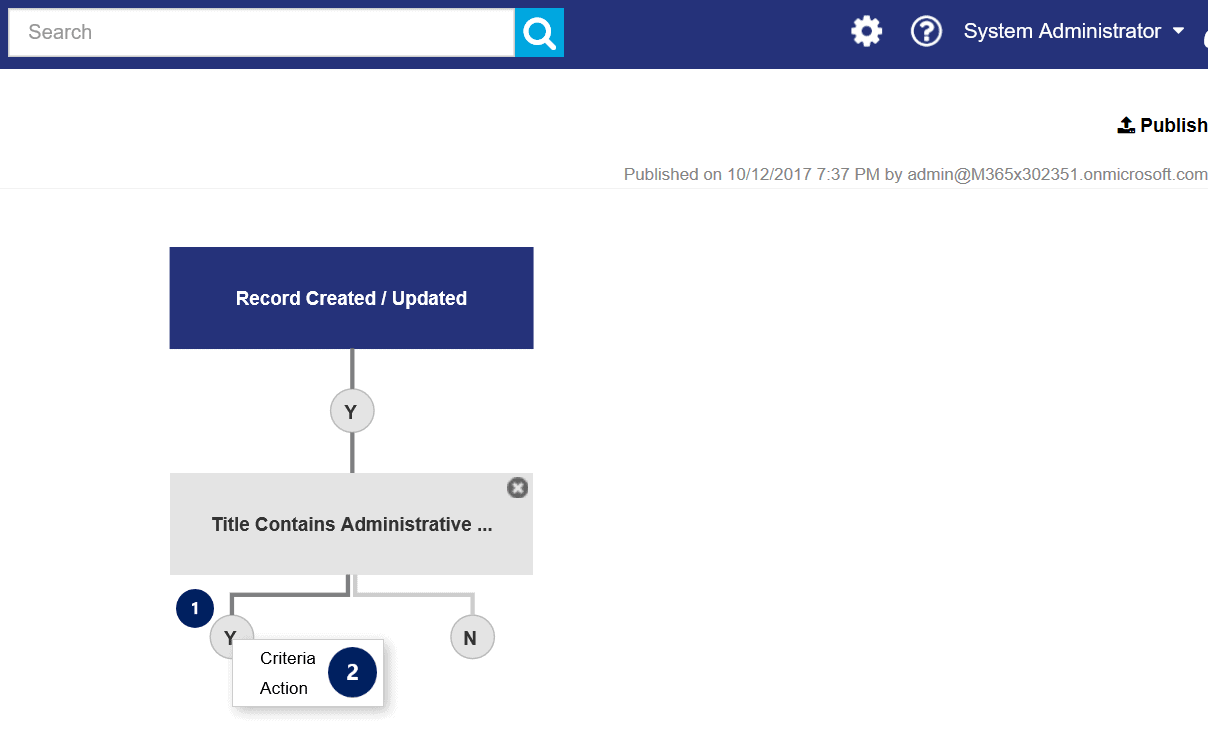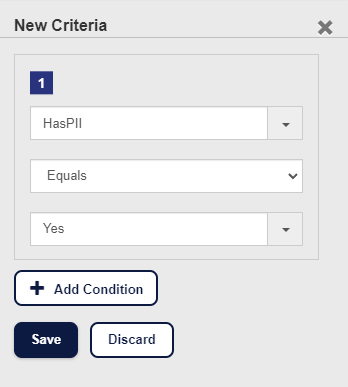 For more information on how to create rules check out the Rules page.
Searching for records with signals
To find records marked with specific signals, use Advanced Search, which has distinct search properties for each signal.
To search for content containing the HasPII signal:
Sign in to Records365
Select Advanced Search.
In the property field, select PII > HasPII, Equals, Yes.
Select Search.
The results will display all records which match your query.

Gain insight through reporting and analytics
You can also explore your data using PowerBI reports designed explicitly for signals. These allow you to gain insights into your data, whether for data minimization, identifying pockets of PII, or some other scenario specific to your needs.
Download the default report
Sign in to Records365.

Go to the

Administration

page by clicking the cog wheel on the top bar.

Select

Reporting

from the left-hand navigation menu.

Select the

Enterprise

tab.

Download the Power BI file named

Signal Intelligence Report.
Related Reading